Gloucestershire coroners court complex opens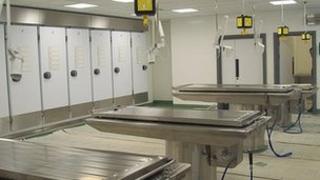 A new coroners court and mortuary facility for Gloucestershire has opened its doors.
The complex, which can cope with 60 bodies, has been built on land close to the Walls roundabout in Corinium Avenue, Gloucester.
A county council spokesman said it was replacing leased buildings which were "outdated" and "no longer fit" for the coroner's needs.
It is also hoped it will save the council some £350,000 per year.
'Difficult' experience
Each year the Gloucestershire coroner has approximately 2,000 deaths reported and holds more than 300 inquests.
Previously many of these were held in function rooms rented from hotels.
A spokesman for the Conservative-led council said the mortuary viewing facilities which had been in use until now, and were being wound down, were poor.
The spokesman said: "Losing a loved one is already a difficult enough experience and we want to do all we can to make things more comfortable for people in their time of need."
The £4.9m building is expected to be formally opened in April.