Women hit as Cirencester Parish Church fence blows over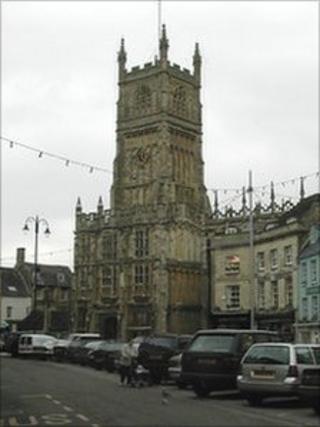 Two women have been injured after fencing around part of Cirencester Parish Church blew down and hit them.
One of the women, described as being in her early-70s, lost consciousness temporarily and was flown to the Great Western Hospital in Swindon.
The other, in her late teens, was taken to hospital in Cheltenham with a neck wound and back injury.
Wooden and metal fencing, on West Market Place, is being used to protect a builder's compound at the church.
'Very unfortunate'
A spokesman for the Great Western Ambulance Service said it was not believed that either patient had suffered life-threatening injuries.
Cirencester Parish Church is currently mid-way through a major project of repair and restoration to the South Porch.
The Reverend Canon Leonard Doolan, vicar of Cirencester, said it was a "very unfortunate" incident.
"Our principal concern is for the two people who are injured," he said.
"We will now have to look into how the incident actually happened although clearly it was occasioned by the strong winds in Cirencester today."
The vicar confirmed that no-one was working in the compound at the time.