Kate Prout funeral takes place in Cheltenham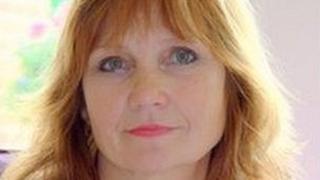 The funeral of Kate Prout, who was murdered by her husband in 2007, has taken place in Gloucestershire.
Her body was found in November at Redhill Farm, Redmarley, after her husband confessed and showed police where he had buried her.
Adrian Prout, 49, was jailed for life for his wife's murder in February 2010 despite his denials.
The funeral service was attended by friends and family and was followed by a cremation at Cheltenham crematorium.
Prout led detectives to an area of woodland in November and Mrs Prout's remains were discovered after four days of searching by police.
A memorial service is due to be held later in the year.