Cheltenham Art Gallery and Museum ground works complete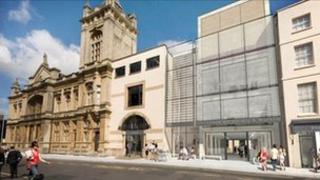 A £6.3m building project at Cheltenham's Art Gallery and Museum has reached its first major milestone.
The ground and foundation works are almost complete and work will shortly commence on building the main frame.
A new extension is being built to increase the exhibition and display space, and some existing galleries and public spaces are being refurbished.
Building work began last summer and it is hoped that the Art Gallery and Museum will reopen in spring 2013.
The plans, entitled "Building for a New Future", include the creation of a new gateway to Cheltenham's oldest building, the medieval St Mary's Church.