Dursley swimming pool reopens after £35,000 facelift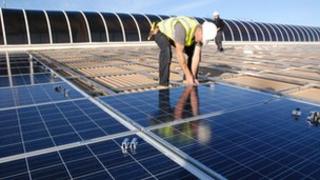 Dursley Pool in Gloucestershire has reopened after five weeks of improvement works.
During the £35,000 facelift, the 80,000-litre pool was drained so maintenance work could be carried out.
Two new showers and a dedicated baby changing area have been installed and the tiles around the pool area have been replaced.
General manager Angela Gillingham said the pool was 24-years-old and needed a refresh.
"The mosaic tiling around the pool area was beginning to crumble so it has been replaced with new tiles," she added.
"We also took the opportunity to add two more showers and created a dedicated baby changing area as many of our customers are parents with babies."
'High regard'
Councillor Keith Pearson, cabinet member for regeneration for Stroud District Council, said: "The pool is well-loved by local people and its staff are held in high regard.
"Investing in this much valued facility will ensure that we continue to provide a quality leisure facility for many years to come."
The revamp of the pool comes just a month after 50 kilowatt solar panels costing £120,000 were fitted to the roof.
It is hoped the panels will effectively pay for two-thirds of the pool's electricity bill, as well as reducing carbon emissions.