Police chief responds to Fred West 'murder victim' petition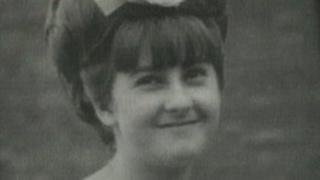 Police have again told campaigners calling for a fresh search for a teenager thought to be a victim of Fred West that there is no evidence.
Fifteen-year-old Mary Bastholm was last seen alive in Gloucester 44 years ago.
Gloucestershire Police is being petitioned to carry out searches at the cafe where Ms Bastholm once worked.
Chief Constable Tony Melville told petition organisers there was "simply no evidence to support the idea that Mary is buried in that location".
Petitions' claims
Chris Roberts, who set up the petition on the 44th anniversary of her disappearance on 5 January 1968, said it was widely believed that Mary was another victim of West.
In a detailed letter, Mr Melville said he was replying because of the "scale of public interest" in the case and "at the request of Mary's family".
He answered the petitions' claims by stating it was simply "not true" the cafe's basement toilet was converted around the time of Mary's disappearance.
He said a book found in the basement was not a school exercise book belonging to Mary but an old cafe diary with no connection to the Bastholm family.
"It is our view that any search of the Pop-In Cafe would be entirely disproportionate and without foundation," added Mr Melville.
"We have visited Mary's family to explain this and they are wholly supportive of this course of action."
He has requested that the i-petition be removed and said the force would not revisit this decision "without new and compelling information".
'Left as reminder'
In response, Mr Roberts said the petition would remain but he was happy to remove anyone who wanted their name taken off.
He said the issue that really stood out was the issue over the book found in the basement.
"My logic says that if it was an old cafe diary, why would the tenant report it to the police, why would the police collect it and why would they still have knowledge of it?" he said.
"I intend to leave the petition up more than anything else as a reminder.
"If Peter Bastholm (Ms Bastholm's brother) got in touch with me I'd be happy to talk to him. If he wants that petition taking down I will do so on his word only."
Fred West was charged with 12 murders in 1994 and is suspected of torturing, raping and murdering an unknown number of women over a 20-year period.
He committed suicide in Birmingham's Winson Green prison before his trial.
His wife Rose was jailed for life for the murders of 10 girls and young women.
The house in Cromwell Street in Gloucester, where the pair buried nine of their victims, has been demolished.