Cut cables compensation struggle in Longlevens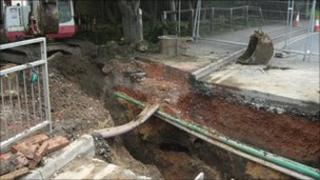 Six months after phone cables were cut by a water company, firms in Gloucester are still fighting for compensation.
In July, 1,200 phone lines were cut in the Longlevens area by a Severn Trent contractor, affecting homes and businesses.
BT Openreach has refused compensation, and TalkTalk has said it would deal with claims on a case-by-case basis.
Severn Trent has said affected customers should take up the claim with their service providers.
'Brick wall'
BT engineers spent two weeks repairing the underground cable in Gouda Way.
Stuart Kelly from Severn Trent said: "There's a well-established legal framework for interruption to just about all the utilities, and when those services have been interrupted, the complaint and the claim should be made against the service provider."
The water company has said it has received no claims or customer complaints from these service providers, and BT has not claimed against damage caused to its cables.
TalkTalk customer, Henry Stinchcombe, from Gloucester Engineering Supplies said: "TalkTalk totally, flatly, denies any responsibility whatsoever even though they're contracted to supply me for telecommunications - I've heard nothing since, apart from 'no'.
"You just haven't got time to knock your head against a brick wall, but when the 12 month contract is up, I'll move on."
Jim Porter runs Oxstalls Service Station in Longlevens and is a BT customer.
"It's tough enough to operate in this economic climate without having those sort of problems burdening us, I couldn't put a price on the time and aggro but if I did, it would be a couple of thousand pounds."
A spokesman for BT said: "This was a matter completely beyond Openreach's control in that the damage to the network was directly caused by a third party.
"Under such circumstances Openreach does not pay compensation to service providers under the terms of our contracts with them."
BT also said it was within the customer's legal rights to claim directly compensation from Severn Trent.
A spokesman for Talk Talk said: "As this issue was due to matters beyond our reasonable control we will have to consider requests for compensation on a case by case basis."