Gloucestershire quad bike thefts tackled by database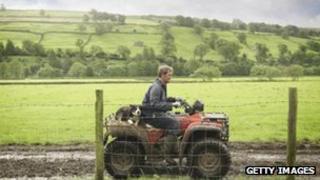 A scheme to prevent quad bike thefts from farms is being launched in Gloucestershire by the police and the National Farmers Union (NFU).
Farmers are being asked to sign up to a police-approved database which records unique details of their machinery.
Quad bike thefts have already fallen by 38% in the county since some farmers started using the scheme.
The aim of the launch during an NFU conference in Hartbury is to get all Gloucestershire farmers to sign up.
'Vicious circle'
In 2010, 98 quad bikes were stolen in Gloucestershire, but this fell to 61 in 2011. The overall number of recorded crimes involving quad bike theft fell from 92 in 2010 to 57 the following year.
The figures differ slightly because two quad bikes may be stolen in one crime.
The NFU said quad bikes were essential transport for farmers to check livestock, haul feed and get around the farm to carry out general repairs.
John Tingey, from the NFU, said the Cesar scheme was "internationally renowned".
Graham Nicholls, an arable farmer who mainly grows potatoes at his farm in Kingscote near Tetbury, said: "The problem is our insurance is going up about 25-30% a year just to counteract the stuff that we're having stolen.
"It's one vicious circle. It's important the police work with the farmers, the insurance companies, to stop this crime happening."
Gloucestershire Police has been working with other police forces to reduce this type of crime.
Det Con Ian Elliot, from the Metropolitan Police, head of the Plant and Machinery National Intelligence Unit, will be at Friday's launch.
He said: "We're looking to design out the crime - that's how Cesar came about - it was a project we started out in 2007.
"The problem for an average police officer, when these machines are being moved and exported out, is how do they identify what they are looking at?
"A piece of equipment familiar to a farmer may not be familiar to a policeman. Cesar gives us an easy identification which gives another layer of security."