Cheltenham gardens open to more events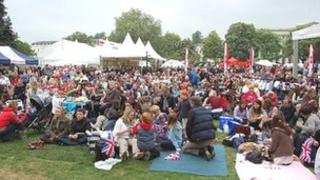 The number of days that outdoor events can be held in Cheltenham each year has increased from 28 to 75.
Temporary permission was granted at a council planning meeting despite opposition from residents worried about damage to the environment.
Montpellier Gardens and Imperial Gardens are used to host events such as the Cheltenham Literature Festival as well as circuses and funfairs.
Cheltenham Borough Council said it would review the decision in 15 months.
The council applied for permission after it was discovered that last year's Literature Festival had used Montpellier Gardens beyond the number of allowed days.
Members of the public and members of the Friends of Montepellier Bandstand and Gardens group told the planning meeting they were concerned about early morning disturbances by workers setting up the events, damage to both sets of gardens and the possible long-term harm to the environment.
After the debate, planning committee members voted by seven votes to four to allow the increase for 15 months.
Councillor Roger Whyborne, from Cheltenham Borough Council, said it was "a bit of an embarrassment" that the council had broken its own planning rules.
"In truth what has happened is that the use of the gardens has crept up year on year - and as a town we have been very pleased to do the festivals - but obviously we have had to come back and review the planning permission.
"I think we have put enough safeguard in place to keep the gardens in good conditions and to respect the neighbours and all the issues with noise."
Montpellier Gardens and Imperial Gardens are used for events as the Literature, Science, Music and Cheltenham Jazz Festival where, in April 2011, thousands gathered to watch the royal wedding of Prince William and the Duchess of Cambridge on a big screen.