Cotswold councillor found to have breached code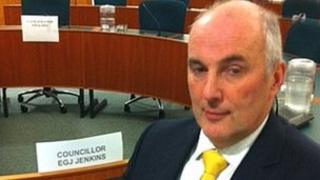 A Cotswold councillor is to be formally censured after breaching the council's code of conduct.
The decision follows a four-day standards hearing at Cotswold District Council into the conduct of Esmond Jenkins.
It followed two complaints made in March 2011 about his behaviour towards council staff and the general public.
He had denied the allegations but said he was "delighted with the outcome".
'Excessively robust'
The Liberal Democrat councillor could have faced a six-month suspension from sitting on the council but was judged to have breached the code of conduct on five out of 16 of counts brought against him.
He was told he would be formally censured for making "unsubstantiated allegations about officers" and for "excessively robust and intemperate behaviour".
He was also told to write a letter of apology to the council's Head of Democratic Services, Nigel Adams, and undergo formal training in the council's code of conduct.
Speaking after the hearing Mr Jenkins said: "I would hope I took part in the proceedings with a degree of sincerity and good humour and at the end of the process I'm delighted with the outcome.
"I'm still here - and there's a lot of work to do and there's still a lot of information to come out and my job is to stay engaged and battling on behalf of the community."