Brimscombe Port development plans postponed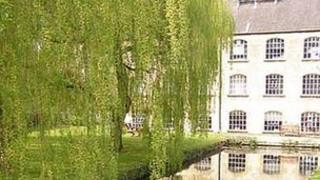 Plans to redevelop Brimscombe Port in Gloucestershire have been postponed because of the poor economic climate.
Stroud District Council said a suitable bid which met their requirements had not been received from any developer despite initial interest.
Proposals for 214 flats, 25 houses, a business park, shops, restaurants and a hotel were unveiled in January 2011.
Cabinet member for regeneration, Councillor Keith Pearson, said it was "disappointing but not unexpected".
"With the economy like it is and with such an uncertain future, major sites like Brimscombe Port are always going to be a challenge," he said.
The council said several developers had expressed an interest during the competitive bidding process, but only one came close to meeting the requirements of the development brief for the project.
"We remain committed to realising the community's vision for the port, to include new commercial and community space alongside housing in an attractive canalside setting," said Mr Pearson.
"However, whilst one of the proposals presented a high quality development, it didn't quite hit the spot particularly with respect to the financial cost to the public sector.
"It is important that we get this decision right for future generations rather than simply accept what is on the table now."