Soil from damaged Gloucestershire verge given protection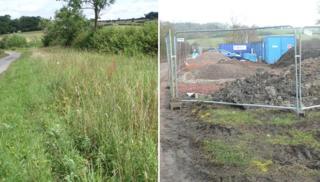 Workers who accidentally dug over a "species-rich" protected verge in Gloucestershire have taken steps to minimise damage to the ground.
In January, topsoil was scraped off the Ashleworth verge and tonnes of hardcore laid down to create a site compound.
Contactor Morgan Sindall, which is replacing water mains in the area, took advice from an environmental advisor.
The pile of topsoil has been reduced to 1m (3.3ft) and covered with hessian to protect tubers and bulbs from frosts.
'Reinstate the verge'
Gloucestershire Wildlife Trust said the site contained nationally scarce plants and over 500 common spotted orchids.
It has been tended for nearly 40 years by local resident, Rupert Hyett, who earlier said he was "devastated" to see the damage.
A joint statement from Severn Trent Water and Morgan Sindall said the companies would protect the topsoil whilst the work took place.
"We will do everything that we can to try and reinstate the verge to how it was and we hope that once the soil is put back the verge will regenerate," a statement read. "Again we would like to apologise for this incident."
Work is due to be completed in six weeks at which point the site team will meet with the Gloucestershire Wildlife Trust to agree the best way to reinstate the verge.
The companies said that permission to use the land had been given by Gloucestershire County Council and they were not informed the site was protected.