Gloucestershire gritters to spread 500 tonnes of salt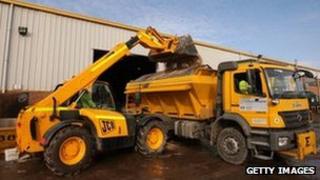 Some 500 tonnes of salt will be spread on Gloucestershire's roads this weekend as snow hits the county.
All A, B and some C roads are being treated by gritters as well as routes to emergency services such as hospitals and fire stations.
Up to 5cm (2in) of snow is expected to fall across parts of the West.
A spokesperson for Gloucestershire County Council said a further 700 tonnes of salt was being delivered next week to replenish supplies.
Drivers are being encouraged to be prepared, listen to the local weather forecasts and travel news, and always drive to the condition of the road.
The authority has bigger salt supplies than ever before after the opening of two new salt domes at Cannop and Stroudwater.
As a result, salt levels have been boosted from 9,600 tonnes last year to just over 11,000 this winter.