Gloucestershire gritters prepare for sub-zero night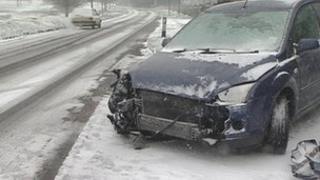 Gloucestershire's gritting teams have said it will be a milder night but they are still preparing for icy roads.
Snow, sleet and rain showers have now passed over the area, leaving wet roads and icy conditions where temperatures dropped below zero early on Sunday.
The county's fire and rescue service said it had "been busy" dealing with burst pipes and asked people to make sure their water pipes were protected.
Heavy snow has caused widespread travel disruption across England.
Salt supplies
On Saturday, Gloucestershire Police said it had to deal with numerous accidents due to the snow and ice, particularly in the Cirencester area.
Gloucestershire County Council expected to spread 500 tonnes of salt on the county's roads this weekend.
A further 700 tonnes of salt is being delivered later this week to replenish supplies.
The authority has bigger salt supplies than ever before after the opening of two new salt domes at Cannop and Stroudwater.
As a result, salt levels have been boosted from 9,600 tonnes last year to just over 11,000 this winter.