Second force to probe fraud at Cotswold Water Park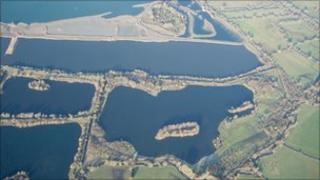 A second police force is to take part in a fraud probe at Gloucestershire's Cotswold Water Park following an independent review of the case.
The original inquiry led to the jailing of former charity boss Dennis Grant, 63, who admitted fraud totalling more than £650,000.
City of London Police has now been invited to work on the investigation.
Dep Ch Cons Mick Matthews said they were advised to "consider a number of additional issues".
He said the move would "ensure an independent and transparent approach" to the investigation.
"Last October we decided to request an independent review to gain an impartial perspective on our investigation," he added.
"We have considered a series of options in how to take these recommendations forward and we have decided to ask City of London Police to work with us and investigate these further matters on our behalf.
"Given that this continues to be a live investigation it would be inappropriate for us to comment any further at this time."
The offences - which saw Grant transfer money from the charity's accounts to his own - occurred between November 2006 and January 2009.
Natasha Flaherty, the society's financial officer, originally discovered the fraud after a loan was not paid.
Grant was sentenced to four years and four months at Gloucester Crown Court in July 2011.
The Cotswold Water Park is made up of 150 lakes near Cirencester which were created through gravel extraction.