Gloucestershire mayor to face trial over census refusal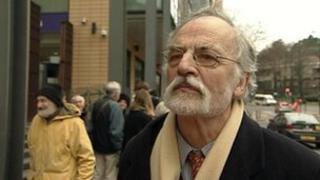 The mayor of a Gloucestershire town will face a court trial over his refusal to fill in his census form.
Stroud mayor John Marjoram, a Quaker, said he refused to complete the form because of his beliefs.
At Bristol Magistrates' Court, Mr Marjoram pleaded not guilty and opted for a trial which will take place at the court on 31 May.
A census is held every 10 years to find out about the people in the UK, with the most recent on 27 March 2011.
Everyone in the country was legally obliged to complete a census questionnaire to help the government decide how best to plan and deliver public services.
Some people have objected to the fact that defence firm Lockheed Martin was employed to carry out the work.
'Human rights'
Mr Marjoram said: "I want to open up the whole case on human rights.
"The 1920 Census Act as far as I can understand, it actually goes against our current human rights.
"Those are the sort of things I want to challenge when I do go to court, whether they will allow me to do that of course is questionable.
"That a company like Lockheed Martin can actually be the contractors, I find completely offensive."
He said he would take legal representation to put his case clearly before the court at the trial.
Gloucestershire peace campaigner Roger Franklin, 84, refused to plead and was found guilty of failing to fill in the form.
He was ordered to pay £460.
Mr Franklin said: "I think it's a bit less than the £1,000 they threatened but I shall not pay it.
"They'll probably either lock me up or they'll more likely send the bailiffs or something like that or they can take it out of your bank.
"This has happened before. I have been to prison before."
In a statement previously issued regarding Lockheed Martin's role, an Office for National Statistics (ONS) spokesman said: "The ONS is using a number of specialist companies to provide specific services for the census in England and Wales.
"The contract was awarded in August 2008 to Lockheed Martin UK in an open procurement contest, carried out under European law, and offered the best value for money."