Gloucestershire police authority votes to freeze budget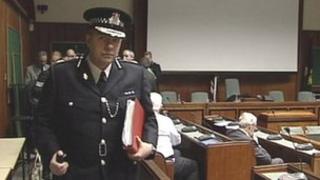 Gloucestershire Police Authority has voted in favour of freezing its share of council tax for a year.
It had to choose between increasing the police precept by 2.9% or accepting a one-off government grant of £1.3m.
Authority chairman Rob Garnham said they were accepting the grant but predicting that council tax would have to be put up in future years.
A police spokesman said freezing the rate could lead to a further £1.3m of savings being required in the future.
Mr Garnham said both options would have delivered the same amount of cash for the constabulary at the end of four years.
He said: "I have been working with the chief constable and we have said our aim is to maintain front-line policing and, in fact, increase the amount of officers available for visible policing in this county.
"I think the package we delivered yesterday will, if it is followed through, still maintain that."
Chief Constable Tony Melville had previously warned that further cuts to his force's budget would take it to "a metaphorical cliff edge".
Responding to the vote on Thursday he said: "It is my job, as chief constable, to highlight any potential risks to policing in this county in whatever guise they may appear.
"A decision has now been made. I don't believe at this time there is anything further that I can usefully add to what I have already articulated over the last few weeks."