Charities voice fears for future in Gloucestershire survey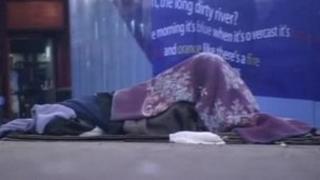 Charities across Gloucestershire are relying on volunteers more due to cuts in council funding and the recession.
Gloucestershire Association for Voluntary and Community Action (GAVCA) surveyed 49 charities about how their future plans were affected by the cuts.
In the last year 65% cut their number of paid staff, and a third plan to increase their number of volunteers.
Charities have said losing core funding from councils has also made it more difficult to plan future services.
Those that participated in the survey included charities involved with domestic violence support, young carers, youth projects and elderly aid.
Diminishing funds
The GAVCA survey took place from September to November 2011 and questioned charities from across the six district council areas.
In terms of budget reductions, 73% of charities said they had made budget cuts of up to 50% and planned more in the coming year.
Anna Reeves, from the Whaddon Lynworth and Priors Neighbourhood Project, which took part in the survey, said: "A lot of our funding comes from the borough council but that pot of money is gradually being diminished.
"We also manage the Oakley Community Resource Centre which is the building the neighbourhood project runs from - we're able to sub-let parts of that and by using our rooms as meeting and conference rooms, we get an income that way.
"We're also looking to do more in terms of community trading, such as running a charity shop or selling through eBay to generate an income that way."
Charities have also highlighted moral and legal concerns about replacing paid staff with volunteers, who may not have the professional experience needed for some of the roles.
Respondents were also worried how the cuts would affect front line services, such as drop-in advice sessions for vulnerable groups like young carers, homeless people and those from disadvantaged backgrounds.
GAVCA Chief Executive Sally Pickering said: "It's the medium-sized charities that are very reliant on public sector funding and they are really finding it quite hard at the moment. And what they are really worried about is that the demand doesn't go away so they end up possibly compromising on quality of service and there are real concerns about safety of vulnerable clients because of that."