Asbestos found dumped at beauty spot in Gloucestershire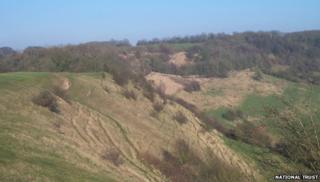 Asbestos waste has been found dumped at a beauty spot in Gloucestershire.
National Trust rangers said it was the latest of nine incidents of fly tipping at Haresfield Beacon, near Stonehouse.
In each instance, the charity has to pay to have the waste removed and faced a bill of "well over" £1,000 to dispose of the asbestos correctly.
A trust spokesman said it had "limited resources" in the county and would rather spend money on improving special places rather than cleaning them up.
'Illegally dumping'
"The asbestos was our biggest concern because it needs to be disposed of carefully by licensed contractors with the correct safety equipment," said David Armstrong, Gloucestershire countryside head ranger.
"If anybody does see any vehicles illegally dumping rubbish they should note the registration number and call the police."
The National Trust said it usually takes six weeks for its rangers to fill a skip from the rubbish they collect around the county.
"Haresfield is a really lovely place and we want to keep it like that and make it even better for the wildlife and many people who visit," added Mr Armstrong.