Jet Age Museum launches brick offer for new building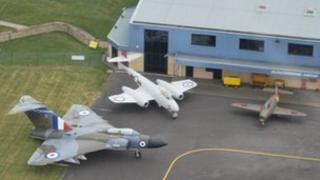 A museum in Gloucestershire, closed for a decade, is giving the public a chance to shape its new building.
The Jet Age Museum recently signed a deal to lease land at Gloucestershire Airport for the next 45 years.
Now bosses are offering aviation lovers the chance to buy the bricks which will form part of its new home at Staverton in Gloucester.
It was forced out of its previous building when the airport expanded and aircraft have been in storage since.
"Members of the public will have the opportunity to purchase a brick that we'll actually use in the building itself," said Darren Lewington, head of operations at Gloucestershire Airport.
"That will be engraved with their name or a message.
"They can have a memorial of themselves at the museum and, we hope, that'll help us raise the funds that we need to be able to complete the project."
Delicate aircraft
The museum suggests a minimum donation of £25 for each brick.
Work is expected to begin on phase one of the new building, a 30m (100ft) by 36m (120ft) hangar and offices, in May.
Chairman and curator of the museum John Lewer said the building would take "two or three months to construct".
It will house delicate aircraft such as a 1925 Gloucester Gamecock which is made out of wood and fabric.
Campaigners have raised £250,000 over the past decade to pay for the new building.
Before it closed in 2000 the museum attracted about 5,500 visitors a year.