Gloucestershire wildlife rescue centre has closure fear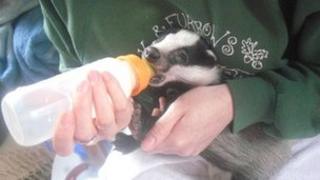 The founder of a wildlife rescue centre in Gloucestershire fears it could close within months if it cannot raise more money.
Oak and Furrows, a charity based near Cirencester, only has enough cash to keep going for another nine months.
Serena Stevens, who founded the centre in 1994, said: "I don't think people quite realise how much it costs to run a place of this size."
Owls, swans and hedgehogs are among the 70 animals cared for at the centre.
Annually the Somerford Keynes site takes in approximately 3,000 wildlife casualties and receives more than 6,000 telephone calls for help.
"Our memberships were really good until the recession hit and then we basically lost a lot of those," said Mrs Stevens.
An added concern was the approach of spring, which is expected to take the centre beyond its capacity.
"It is just absolutely heaving here from May to August," she said.
"You start getting all the orphans in like fox and badger cubs, but you could also get anything from nests of baby birds to ducklings and baby rabbits."