Cirencester farmer Mark Tufnell wins owl conservation award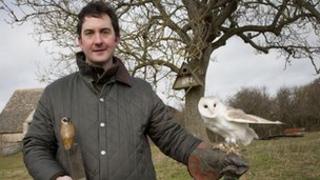 A farmer in Gloucestershire has become the first in the UK to receive an award for barn owl conservation, as part of a sustainable farming project.
Mark Tufnell, who runs Calmsden Farms near Cirencester was given the new Barn Owl Conservation Grade award after rearing five chicks last year.
The Conservation Grade Nature Friendly Farming scheme helps farmers cultivate wildlife habitats on their land.
Mr Tufnell said he was "delighted" to win the award.
The owls were reared from a nest box by an unused barn on the farm.
Mr Tufnell said: "We still see the mother owl flying around the nest-box. I hope she breeds again this year and that more farmers start farming this way so that her chicks can raise young on their land too."
Mr Tufnell, who grows oats and wheat for cereal and flour manufacturers, was one of 50 farmers involved in the project.
He received the award from Professor David Bellamy OBE who said the UK needs to encourage conservation programmes that are "scientifically proven, yet practical and sustainable."
Tim Nevard of Conservation Grade added: "By measuring the fledging rate of barn owls - one of our peak farmland predators - we're measuring the health of all wildlife in the area, down to rodents, insects and plant life.
"Increasing wildlife on farms not only keeps the ecology of our countryside healthy, we see more birds and more bees and hear more buzzing and birdsong."