Gloucestershire County Council agrees on cuts of £29m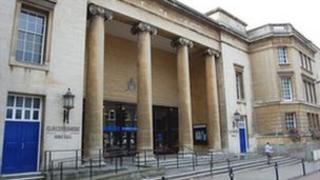 Councillors in Gloucestershire have agreed to make £29m of cuts - but have said council tax will remain frozen at its present level.
A spokesman for Gloucestershire County Council said the 2012/13 budget reflected feedback given by the public.
At a full council meeting on Wednesday the authority also agreed to invest £12m to stimulate the county's economy.
The Conservative-led authority has to save a total of £114m over a four-year period.
Council leader Mark Hawthorne, said: "It's no secret that the cheque we get from government is getting smaller all the time so we have to prioritise what we spend."
In 2011/12 the council received £137.8m from the government but that sum has been reduced to £125.1m for the coming year.
During December and January, more than 800 residents took part in a budget consultation along with councillors and parish and town councils.
Ray Theodoulou, cabinet member for finance, said the message was received that spending on vulnerable people should be protected and efficiency savings made where possible.
"The budget we have approved reflects this feedback," he said.
"We have committed to spend more on social care at the same time as making another £29m of savings through working smarter."
'Council sitting on reserves'
The agreed budget for 2012/13 is £392.20m.
At the same cabinet meeting, Liberal Democrat proposals to add a further £7.7m investment to the budget were rejected.
The proposals included more money to spent on road repairs, keeping existing libraries open and increasing youth grants to district councils.
Lib Dem leader Jeremy Hilton said: "It is disappointing that the council continues to sit on £106m reserves.
"The Liberal Democrats on the council will be monitoring the levels of reserves over the coming months to see whether they will be used next year as an electorate sweetener prior to the county's elections."