Diamond Jubilee events in Gloucester get £80,000 boost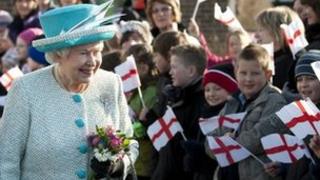 Diamond Jubilee and Olympics related events and celebrations in Gloucester have received an £80,000 boost.
Gloucester City Council has restored its budget to £160,000 which is what it used to be in 2010.
Council leader Paul James said: "We think putting more events on in the city and working with others to make it happen is the right thing to do."
Traders have welcomed the move as this year was a "unique occasion" and would also contribute to the celebrations.
Ivan Taylor, from the Westgate Association - a local traders group, said: "It's what we all hoped for, it's good support for this unique occasion, it's not going to happen again so let's celebrate and make it happen.
"I think the business community is fully behind it and they will play their part and will contribute by adding to this budget from businesses from within the four gates of the city, and we can have a real good celebration."
The city council has said the money would also be used towards supporting its history festival, hat festival and other arts and poetry events.