Gloucestershire County Council bids for £4.9m as part of transport plans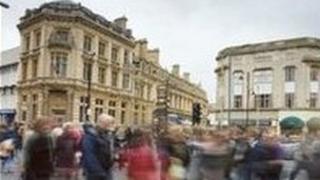 A bid of £4.9m has been made to central government as part of plans to improve transport in Cheltenham and Gloucester.
The overall cost of the project is about £16.5m, with the council, cycling groups and local businesses contributing the rest.
The hope is to improve rail links and to build cycle routes and a new bus station in Gloucester.
But a row has broken out between local politicians over plans to stop traffic at certain times in Cheltenham.
The proposed junction changes involve the pedestrian crossing at Boots Corner in the town.
County council cabinet member Paul McClean (Conservative) said: "If you close off what is the arterial route through the heart of Cheltenham, what kind of impact is that going to have."
Cheltenham MP Martin Horwood (Liberal Democrat), said: "The point is the whole overall plan is about reducing the amount of car use in total by shifting more people into buses, into walking and cycling and other sustainable ways.
"The modelling from the county council that will work, it'll be fine."
The outcome of the bid to the Local Sustainable Transport Fund will be known at the end of May.