Stephen Morris reviews Gloucester band Atakarma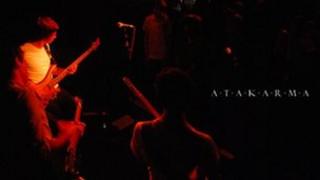 Atakarma are no strangers to these pages.
In the past they've graced us with big, big atmospheric sounds designed to swamp our ears with a sense of eeriness and splendour in equal measure.
Now, they return with not one but two offerings; an EP, 'Answer Back' and a full album in the form of 'Colour Bling'.
The releases, the album in particular, show something of a change in direction for the Gloucester band.
While remaining distinctively Atakarma with a sound recognisable at 50 paces, the band's newer songs betray a clear 80s influence, albeit through a post-Arctic Monkeys (the album's title track), post-Libertines ('Through Keyholes'), post-Coldplay ('Constant Reassurance') filter.
'Big themes'
Vocalist Leo Garbutt's delivery is rooted somewhere between the singing style of Morrissey and that of New Order's Bernard Sumner.
And it's not just the singing here that recalls the sound of the artists formerly known as Joy Division; 'The Upper Hand' owes much to New Order.
Lyrically, the band are still focussed on big themes: the storms and stresses of existential angst. But some lines from the album are, at times, impenetrable.
The phrase 'clarity transcends my complexion', for example, probably means something, but I'm not quite sure what.
Perhaps it's a tag line for some new brand of acne cream. Probably not though.
The EP, 'Answer Back', owes a little less to the 80s behemoths of Sumner, Hook and Morris, but continues to examine similar big themes to the album, as some of the song titles ('Looking Back' and 'Not Alone') promise.
'Bruiser of a track'
But the EP acts as something of a sonic bridge between the old Atakarma and the band who produced 'Colour Blind'.
'Looking Back' starts off as a latter day Gene song might before wallowing in Verve-ish shoe gazery.
Elsewhere ('Move Between') the Verve allusions hit home much sooner, while 'Punch Drunk' is a dark, brooding bruiser of a track.
As ever, texture is everything with Atakarma.
Garbutt's vocals now sound less echo-y and disembodied than they once did and the overall effect is much more complete.
Atakarma have come a long way in not too much time at all. And the results are very, very positive indeed.