Teen found hanged in Cheltenham received 'woeful' care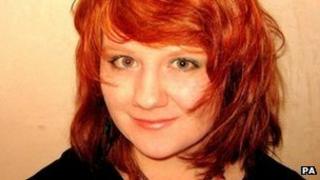 A Gloucestershire student, who was found hanged from a tree, had received "woeful" mental health support, a coroner has said.
Melissa Martin Hughes, 18, was found hanged in a Cheltenham park in April 2010.
An inquest heard of a "breakdown in communication" within an organisation which provides mental health services.
The medical director of 2Gether NHS Foundation Trust admitted a number of "failures" in the service she received.
Gloucestershire's deputy coroner David Dooley said "a series of failed responses and miscommunications led to a failure in delivering the service intended" for Ms Hughes, who was described as an "exceptional" student.
The inquest at Gloucestershire Coroner's Court heard the message system at the Primary Care Assessment and Treatment (PCAT) team, run by 2gether NHS Foundation Trust, which provides mental health services in the county, was a "shambles".
'Breakdown in communication'
The trust's medical director, Dr Paul Winterbottom, said: "What we saw in this situation was a series of failed responses, administrative failure, a failure of the referral to be progressed in the way that was expected and planned.
"I do fully accept the breakdown in communication - the transfer of information within the service, in this particular instance - and the breakdown in effective communication with Melissa and her family."
Ms Hughes father Donald Hughes said the family had been "let down" by the service his daughter had received.
The hearing was told Ms Hughes, who was predicted to get top grades in her A-level exams at Pate's Grammar School, worried about her appearance after suffering from severe acne since she was 14, and had a history of self-harm.
It was told she had experienced "dark episodes" and she was briefly sectioned before being discharged into the care of her parents following an attempt to throw herself from Beachy Head in East Sussex in 2009.
'Urgent pleas'
But following the incident she was seen only twice by a psychiatrist because he was off sick, and no-one replaced him.
Several attempts were made by Ms Hughes' mother, Laura, to contact the PCAT because she was concerned her daughter had not been seen for some months, but no action was taken.
The inquest was told messages were not passed from a crisis team to the PCAT, and notes were not kept.
In summing up, Mr Dooley said: "In my opinion this reflects a woeful picture of a lack of available support for Melissa during the six to eight months prior to her death."
Recording a narrative verdict, Mr Dooley said: "No immediate replacement consultant or targeted treatment was made available to her and this constituted a missed opportunity to continue assessment, provide any formal diagnosis or appropriate treatment or indeed give continued care.
"Despite urgent pleas from her parents for support and guidance, no adequate response or assistance was forthcoming."