Cheltenham man missing in Cayman Islands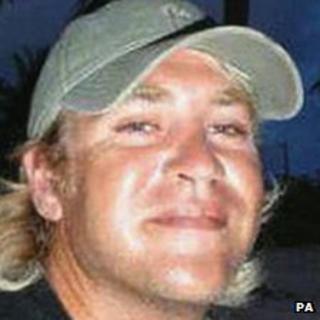 A man from Gloucestershire has gone missing in the Cayman Islands.
Nathan Clarke, 30, who is originally from Cheltenham, was reported missing on Saturday night on the island of Grand Cayman.
He was last seen near Calico Jack's beach bar on West Bay Road on the Caribbean island wearing beige swimming shorts and no top.
Volunteers, police and search teams have been looking for him, a spokesman for the island's police said.
A campaign has also been launched on Facebook to help raise awareness and fund helicopter search teams.
Mr Clarke, who had been out with friends on the night he disappeared, had been working as a teaching assistant on the island.
One of Mr Clarke's friends, Simon Taylor-Payne, said he was the last person to see him as they walked in a group of friends along the beach towards a bar.
Out of character
"Nathan walked down to the water's edge. He was standing about a foot deep in the water, which was flat calm.
"I asked his girlfriend to ask Nathan what he wanted to drink. She walked back to where he was, and she came back to the bar to say she couldn't find him.
"He disappeared in that short space of time - it was less than five minutes. We all went to have a look and he was nowhere to be seen."
Mr Taylor-Payne said it was out of character for Mr Clarke to go missing.
"The only thing I can think of is it's some kind of abduction. If it had been an accident then we would have found him by now.
"We have scoured the area with a fine tooth comb. There must be something malicious down the line."
A spokesperson for The Royal Cayman Islands Police Service (RCIPS) said "extensive" searches had been carried out, including water searches involving marine vessels and divers.
Superintendent Marlon Bodden said: "We have no evidence to suggest that Nathan has been abducted. It is not a regular thing that happens in the Cayman Islands and whenever it happens we are not scared to tell the public.
"We have established an incident room at West Bay police station and would ask anyone who has information to contact officers there."