Gloucester Law Centre's discrimination advice service funding is cut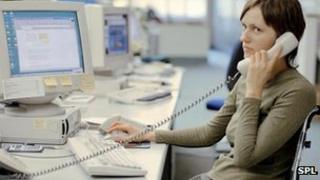 A law centre in Gloucester which offers free legal advice service for discrimination cases is to stop and be replaced with a helpline.
For the past four years, Gloucester Law Centre (GLC) has been given an annual grant of £51,000 from the Equality and Human Rights Commission.
But staff fear the new helpline will be insufficient as their clients need face to face advice as they are vulnerable.
The Home Office has said the service "did not represent value for money".
A spokesman from the Home Office said: "The decision to stop funding the commission's helpline and grants system was taken because they did not represent value for money or support the commission in carrying out its core functions."
The Law Centre has said it has helped nearly 200 people in dealing with discrimination cases since April last year.
Staff also claim that public money can be saved as some cases can be resolved out of court and can prevent people leaving work and being forced to claim benefits.
Senior solicitor at the GLC, Anne Whitworth, said: "Some of these clients are very vulnerable, you're dealing with discrimination on grounds of things like age or disability and it's very difficult for them to express what they think their problem is.
"You do have to be patient with them, as sometimes they are delicate matters - it's really an area where we believe face-to-face advice is essential."