Missing Cheltenham man's phone found in sea in Cayman Islands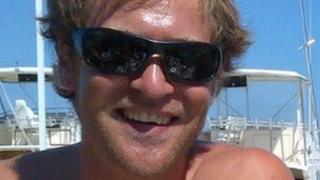 Police searching for a Cheltenham man missing in the Cayman Islands say his mobile phone has been found in the sea.
Nathan Clarke, 30, was reported missing on Saturday night on the island of Grand Cayman.
A spokesperson for The Royal Cayman Islands Police Service (RCIPS) said it was found offshore in about 3m (10ft) of water.
They said no other property was found and no trace of Mr Clarke had been found despite "extensive searches".
"Examination of the phone has confirmed it is Nathan's. Nathan's partner and his family have been made aware of the development," the spokesperson said.
The RCIPS also confirmed the last call made from the phone was at 20:07 GMT to 20:09 on Saturday.
"There was no further activity registered on that phone," it added.
Mr Clarke works as a teacher on Grand Cayman, and has lived there for about four years.
He was last seen near Calico Jack's beach bar on West Bay Road on the Caribbean island wearing swimming shorts.
Acampaign has also been launched on Facebookto help raise awareness and fund helicopter search teams.
Earlier, one of Mr Clarke's friends, Simon Taylor-Payne, said he feared he may have been abducted.
Supt Marlon Bodden, from the RCIPS, said: "We have no evidence to suggest that Nathan has been abducted.
"It is not a regular thing that happens in the Cayman Islands and whenever it happens we are not scared to tell the public."
He said the mobile phone had been handed in to police after it was found by a passenger on a cruise ship who was snorkelling in the area.
Mr Clarke's brother and sister, Dan Clarke and Sam Clarke, said they "extended their heartfelt thanks and gratitude" to people involved in the search.
"This is a very distressing time for the whole family and we await the arrival of our parents Lizzie and Randell Clarke in Cheltenham before flying out to Grand Cayman together as soon as possible," they said.