Cayman Islands missing man Nathan Clarke: CCTV shows 'no sign'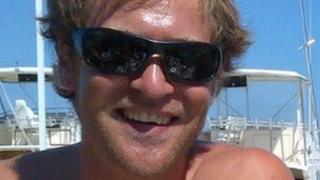 An examination of CCTV footage has shown no sign of a Cheltenham man who went missing in the Cayman Islands, police said.
Nathan Clarke, 30, was last seen on Saturday night on the island of Grand Cayman. His mobile phone was found in the sea on Wednesday.
Police said the footage showed "no sign" of him leaving the beach area.
Meanwhile friends of Mr Clarke in Gloucestershire have launched a campaign to raise money for the search.
Police said the search was now concentrating on an area of ocean close to where Mr Clarke was last seen.
Janet Dougall, from the Royal Cayman Islands Police Service (RCIPS), said: "Despite examining hours of CCTV footage from West Bay Road, no sign of Nathan leaving the beach area on to the roadway on Saturday 25 February 2012 has been found.
"The examination of CCTV footage continues."
Missing wallet
She said 18 officers and 35 civilian volunteers were continuing with a water-based search off Seven Mile Beach, and divers and snorkelers were searching for any trace of Nathan or his property.
"His black Fossil wallet has not yet been found," she added.
Leaflets were being handed out to shoppers in Cheltenham on Friday, asking for donations to help pay for a search helicopter and boats.
Matt Horton, from Tivoli Trading in Cheltenham, which has stocked some of the leaflets, said: "I wanted to do something to help. It's not an ideal situation to be in.
"People have been very interested. The leaflets have been going out and people have been giving us a few bits of cash."
Mr Clarke works as a teaching assistant on Grand Cayman, and has lived there for about four years.
He was last seen near Calico Jack's beach bar on West Bay Road on the Caribbean island wearing swimming shorts.
Acampaign has also been launched on Facebookto help raise awareness and funds.
Mr Clarke's parents and siblings are due to arrive in the Cayman Islands on Saturday to join the search.
A statement from the family said: "We are flying to Grand Cayman to work alongside police, friends and volunteers in their tireless search to find Nathan.
"We are staying positive that he will be found despite searches predominantly taking place in the ocean at this time.
"Nathan is much loved by friends on the island and back in the UK and we are still confidant and praying that he will be found safe and well."