Cayman Islands missing man Nathan Clarke: Sea hunt resumes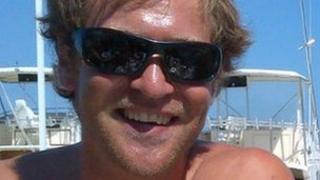 A sea search for a Cheltenham man who went missing in the Cayman Islands is due to resume on Saturday.
Nathan Clarke, 30, was last seen a week ago on the island of Grand Cayman. His mobile phone was found in the sea on Wednesday.
Police said that CCTV footage from the area showed "no sign" of him leaving the Seven Mile Beach area.
Mr Clarke's parents are due to fly out on Saturday to join the search for their missing son.
Police said they were now concentrating on an area of ocean close to where Mr Clarke was last seen.
Janet Dougall, from the Royal Cayman Islands Police Service (RCIPS), said 18 officers and 35 civilian volunteers were continuing with the search.
The search was due to resume at 08:30 local time, 13:30 GMT, she said.
Mr Clarke works as a teaching assistant on Grand Cayman, and has lived there for about four years.
He was last seen near Calico Jack's beach bar on West Bay Road on the Caribbean island wearing swimming shorts.
Acampaign has also been launched on Facebookto help raise awareness and funds.
A statement from the family said: "Nathan is much loved by friends on the island and back in the UK and we are still confident and praying that he will be found safe and well."