Gloucester flood risk is reduced after rain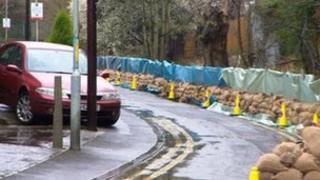 The risk of flooding at 100 properties alongside a stream in Gloucester has subsided, the Environment Agency said.
Pumps were installed next to the Sud Brook Stream amidst fears rubble from a recent fire at a nearby factory would block the flow of water.
On Saturday, police were called in to warn 100 homeowners that their properties might be at risk.
But an agency spokesman said: "The weather hasn't been as bad as we initially thought it would be."
More than 100 homes were said to be at risk in Matson Place, Melbourne Street, Moor Street East and Adelaide Street.
Sandbags were brought it because of fears the rain on Sunday morning could cause the stream to burst its banks.
"We've probably had about half-an-inch of rain so the levels haven't got quite as high as we originally feared we might," the Environment Agency spokesman added.
The derelict Old Norville Works was badly damaged by fire in February which caused rubble to fall into the stream.