Cayman Islands missing man Nathan Clarke: Bad weather halts search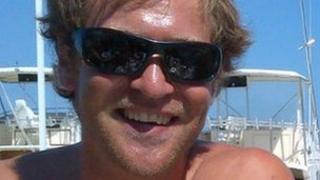 The search for a Gloucestershire man who has gone missing in the Cayman Islands has been temporarily called off because of bad weather.
Nathan Clarke, 30, from Cheltenham, was last seen on 25 February on Grand Cayman. His phone was found in the sea.
Police said the water-based search was stopped on Sunday afternoon due to "prevailing weather conditions".
The weather would be reassessed on Monday, police said. Volunteers have been asked not to turn up on Monday.
Over the weekend 527 volunteers and 39 police officers joined the hunt for Mr Clarke, who works as a teaching assistant and has lived on Grand Cayman for about four years.
Mr Clarke's parents arrived on the island on Saturday to join the search for their son.
He was last seen near Calico Jack's beach bar on West Bay Road on the Caribbean island wearing swimming shorts.
A campaign has also been launched on Facebook to help raise awareness and funds.