Stroud campaigners dispute number of new houses needed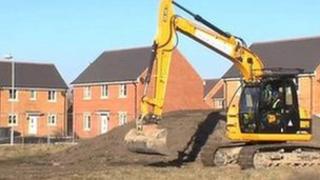 A campaign group in Stroud claims the council is planning to build 2,250 more homes in the district than are needed.
Don't Strangle Stroud claims outdated figures have been used to calculate the projected population rise and average household size.
They say 7,100 homes are needed before 2026, rather than the 9,350 planned by Stroud District Council.
The council said it would consider "all representations" before its housing strategy goes to a public inquiry.
Bigger houses
The campaign group claims figures from the Office of National Statistics have been revised to show the average household will have 2.31 occupants by 2026, rather than 2.21, meaning fewer, but bigger, houses are required.
Richard James, from Don't Strangle Stroud, said: "All of the figures that we've used are simply the figures that Stroud District Council have presented as their evidence to confirm the 2.21 figure, which is mathematically incorrect."
The group said their calculations show 6,231 houses have already been built or committed to, meaning only 869 new homes need to be built.
A spokesman for the council said it needed time to understand the group's argument, and may "want further information from them to provide the details which underpin their claims".
The secretary of state is due to examine the council's long-term proposals for housing, which are part of its Core Strategy, by November.
A final decision is expected following a public inquiry in February next year.