Cheltenham Festival: Spending 'more important than ever'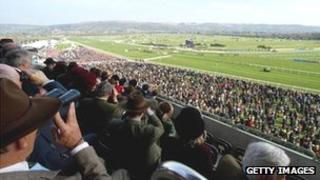 Attendance and spending at the Cheltenham Festival is "more important than ever", says the racecourse boss.
Some 230,000 spectators are expected through the gates of the four-day National Hunt Racing festival, which begins on Tuesday.
"I've been stressing how important it is to the local economy here," said racecourse director Edward Gillespie.
The festival is worth £50m to the local economy and more than 10,000 people are out of work in the county, he said.
"So it is more important than ever that people come and spend money and I am sure that they will be really well looked after."
'Time for shopping'
Cheltenham Tourism estimates that spectators fill 10,000 beds each night in the town during race week.
Also, during the week, 30,000 cars are estimated to bring people to the racecourse where 220,000 pints of Guinness are served and almost £1.5m is withdrawn from 20 cash machines around the site.
Martin Quantock, Cheltenham's town centre manager, said local residents had a perception that the town centre was gridlocked during the week, but it was actually "the best time ever" for shopping.
"It is very busy in the mornings before the races have started and also afterwards when the races have finished," he said.
"But when the races are actually on, I would say the car parks are probably about two thirds empty, the shops are empty and the streets are empty."