Police given evidence from Cotswold Water Park probe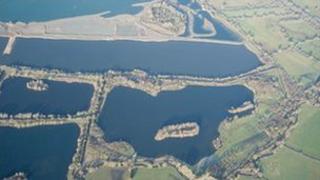 Evidence from an investigation into a £650,000 fraud at Cotswold Water Park has been handed to police.
The chief executive of the water park charity, Dennis Grant, was jailed after diverting money for the organisation into his own bank account.
Gloucestershire County Council, a partner in the society, ordered a review into its own involvement.
The authority said investigation head Graham Garbutt had handed on "some evidence" to City of London Police.
Mr Garbutt has previously held positions at the Government Office for the West Midlands and Gloucester City Council.
The police force was brought in after the investigation was reopened by Gloucestershire Constabulary in February.
Officers were asked to "consider a number of additional issues".
It was said that bringing an outside police force in would "ensure an independent and transparent approach" to the investigation.
'Changes needed'
The council said it could not say what type of evidence had been passed to police.
It added it would act on recommendations contained in Mr Garbutt's report, which included setting up a new partnership board to oversee future governance at the water park.
Council leader Mark Hawthorne said changes were needed "to protect the council and the community whenever assets were transferred in the future".
He saidthe reportwas ordered to find out "once and for all" what happened.
The results of the review, which took six months to complete, were presented to the council's audit committee.
"There has been a lot of speculation around the business of the Cotswold Water Park Society and the role this council played," Mr Hawthorne said.
"While the council will want to take some time to reflect on the recommendations, I support them and would like to see them implemented as soon as possible."
The Cotswold Water Park is made up of 150 lakes on the Gloucestershire and Wiltshire border which were created through gravel extraction.
A new charity, the Cotswold Water Park Trust, took over from the Cotswold Water Park Society Limited in March last year.
Grant was sentenced to four years and four months for the fraud.