Missing Nathan Clarke: Search ends in Cayman Islands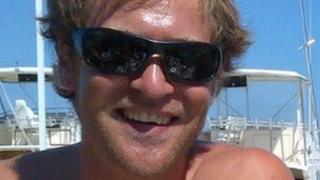 The search for a British man who went missing in the Cayman Islands has been called off.
Nathan Clarke, 30, from Cheltenham, was last seen on 25 February on Grand Cayman. His phone was found in the sea.
The Royal Cayman Islands Police Service said only has phone has been found since he went missing 16 days ago.
Ch Insp Richard Barrow said: "We have completely exhausted the search areas at land and at sea, but unfortunately we have not been able to find Nathan."
Police say although the land and sea searches have been called off investigations into his disappearance were still "very active".
Hundreds of volunteers worked alongside police officers in the hunt for Mr Clarke - with 527 helping on one day.
He was last seen near Calico Jack's beach bar on West Bay Road on the Caribbean island wearing swimming shorts.
Ch Insp Barrow added: "I would like to thank all of the volunteers who came out day after day and tirelessly assisted our officers during the searches.
"I know that Nathan's parents, his brother and sister, his fiancee Lisa and her parents are also very grateful to all those who have helped and shown support during this difficult time."