British Waterways tenants claim neglect in Sharpness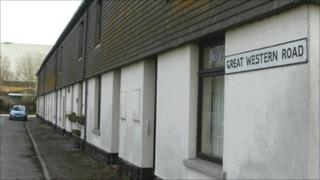 Tenants in a number of Gloucestershire cottages owned by British Waterways say their homes are being neglected.
Residents of 19 homes in Sharpness were told more than two years ago their homes were being sold to save money.
The remaining tenants now say that the minimum of maintenance has been carried out on their homes and empty properties are being neglected altogether.
In a statement, British Waterways said it hoped to have more news for its tenants in the next couple of months.
The company had said it washoping to auctionoff the cottages in Severn Road and Great Western Road last September but they were withdrawn after failing to meet the reserve price.
'Shocking condition'
It had already failed to offload the properties to the council or a housing association.
Terry Parsons, chairman of the Residents Association at Sharpness Docks, said some of the properties were in a "shocking condition" and the tenants were "so frustrated".
"Nothing is being done - the properties are being run down through lack of maintenance," he said.
"There are eight empty properties there - some of them have been empty for quite a few years now.
"British Waterways say they are strapped for cash and yet they have let eight properties go without any income coming in whatsoever."
A British Waterways spokesperson said: "We're currently looking at our options and speaking to local partners to try and secure the best outcome for both the waterways and the residents.
"We hope to have more news in the next two months, but in the meantime any concerned residents are welcome to contact British Waterways, or the head of the residents' association who is in regular contact with us."
Previously, tenants had said they were unable to buy their own homes and were concerned there was no guarantee a responsible landlord would take on the properties.