NHS Gloucestershire legal campaign costs taxpayers £137k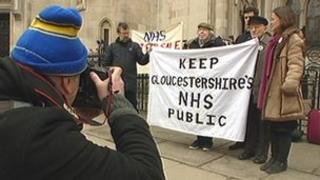 The NHS spent almost £137,000 fighting a legal challenge over plans to change health services in Gloucestershire.
Plans to transfer some health services to a social enterprise were scrapped last month after a Stroud resident took the NHS to the High Court in London.
NHS Gloucestershire agreed to settle the judicial review out of court.
Michael Lloyd, 76, argued the NHS had acted unlawfully in planning to hand management of county hospitals and some services to a new body.
Future plans
A spokesperson for NHS Gloucestershire said it was important to state that the NHS did not bring the legal challenge and it was "very disappointing" that legal costs were incurred.
The NHS said the settlement was in the interests of patients and the taxpayer and it was now taking time to consider future plans.
A new body - the Gloucestershire Care Services Community Interest Company - was due to begin managing some health services last October.
Those affected services were to include community hospitals, therapy services and district nurses, and 3,000 staff.