Commissioner candidate's plea to save Coleford station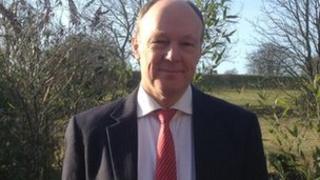 The man hoping to be Gloucestershire's first elected police commissioner wants a decision to close Coleford police station to be postponed.
Former superintendent Martin Surl, 54, has called for the future of the station to be decided after the election in November.
The police authority wants to close Coleford, Lydney and Cinderford stations in an attempt to save £18m.
It insists the move is "the best possible use of public money".
Staff working in the stations will move into shared accommodation at the Forest of Dean District Council offices in Coleford.
Rob Graham, police authority chairman, said: "By sharing offices like this we can make sure we keep to our pledge of 'bobbies before buildings' and money saved can go to protect the policing front line."
But Mr Surl says the decision is misjudged.
"The Forest of Dean is a large community with its own identity and to leave it with no police-owned building of its own is very short term," he said.
"We need to look ahead rather than react to the current financial situation."
In his open letter to the authority, Mr Surl outlines his concerns if Coleford police station is closed.
"It will be virtually impossible to reverse the decision no matter what the policing needs of the Forest of Dean may be in five, 10 or even 20 years time", he said.
"Make no mistake, if they sell off Coleford Police Station we will not be able to afford to buy a similar site back for future generations."
Mr Surl has asked that, in the event of the outgoing police authority refusing to defer closure, the station is retained intact so the incoming commissioner can reverse the decision.
He said: "It is exactly this kind of decision the office of police commissioner was created for.
"On November 15, Gloucestershire's first police commissioner will be elected by the community so it makes sense for this to be one of the first decisions they make."