London 2012: Kenton Cool Everest gold medal mission reaches base camp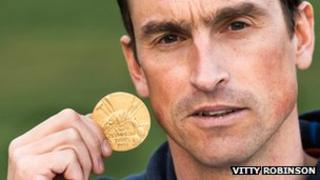 A British climber on a mission to take an Olympic gold medal to the top of Mount Everest has reached the mountain's base camp.
Kenton Cool, 38, told his followers on Twitter his "special cargo is safe and sound".
Mr Cool, from Gloucestershire, wants to honour a pledge made in 1924 to carry the medal to the summit.
It is one of 21 medals awarded to members of the 1922 British Everest Expedition at the 1924 Winter Olympics.
The 1922 expedition came within 500m of the summit, but failed three times to reach the top.
At the 1924 Winter Olympics in France, members of the expedition were honoured with medals for mountaineering.
'So humbled'
Lt Col Edward Strutt, who was the expedition's deputy leader, pledged to place one of the medals on the summit of Everest, but the promise was never kept.
The following expedition in 1924 ended with George Mallory and fellow climber Andrew Irvine dead on the mountain.
Mr Cool has been loaned one of the original medals awarded to the team from 1922 by Charles Wakefield, the grandson of Dr Arthur Wakefield who was a member of the expedition.
He said on Twitter his team had reached base camp and he was "so excited to be here at last".
"Thanks to the Family Wakefield for making this expedition so special. I feel so humbled," he said.
It is hoped the expedition will reach the summit by the end of the month.
If successful it will be the 10th time Mr Cool has climbed Mount Everest, a milestone that will break his own British record.
Mr Cool has also been chosen to be an Olympic torchbearer in the run-up to the London 2012 Olympic Games.