Arthur Negus Bible reunited with family after Antiques Roadshow appearance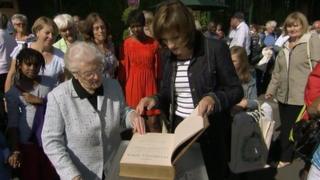 A family Bible has been reunited with relatives of famous antiques expert Arthur Negus, following its appearance on BBC television's Antiques Roadshow.
The book was featured on a show shown on Sunday which was filmed last summer.
Mr Negus's daughter, Ann Savery, from Apperley near Tewkesbury, was contacted by programme producers after it was brought in by a distant relative.
Arthur Negus became a household name in the 1970s when he appeared on Going for a Song and Antiques Roadshow.
The family Bible was taken to the filming for the programme at Wimbledon's All England Tennis Club by Hilda Tully, who is related by marriage to the Negus family.
It was put on public display at the Gloucestershire Family History Society (GFHS) open day at Crypt School in Gloucester on Saturday.
Mr Negus lived in Cheltenham and was the Fine Arts expert at Bruton Knowles auctioneers in Gloucester from 1947 until his death in 1985.
'Absolutely marvellous'
Mrs Savery said: "It's wonderful to have it. It will always be treasured now by our family. I'm very grateful to her [Mrs Tully]. It's amazing to have it back.
"My father was an only child and his parents died before I was born so it was very hard to put together any relations in that direction at all.
"All of a sudden here comes the Bible, and it's absolutely marvellous."
Series editor Simon Shaw said: "As we regularly say on Antiques Roadshow, there are family treasures that are beyond commercial value and this is a perfect example.
"Having met Ann at a recent Roadshow we are delighted to have been able to help."
Kevin George from GFHS said: "I think it's fantastic because family Bibles, when they're kept hold of, are a great source of information, and in this case there is information that would otherwise have been difficult to find from a genealogy point of view."
The Bible will feature again on the next series of Antiques Roadshow when filming begins at Cheltenham Town Hall on 26 April.