Stephen Morris reviews Jim Lockey and the Solemn Sun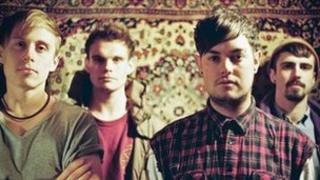 In 2011 The Guardian newspaper ran a feature about the 'new boring'.
It bemoaned the rise and rise of a certain kind of music which, in the view of the writer, Peter Robinson, was rather bland.
Adele and Ed Sheeran were in Robinson's sights when he penned his assault on the 'beige wave'. But so was Mumford and Sons.
Many have since given Mumford and Sons the shorthand review of 'Coldplay with banjos'.
Given Coldplay are considered the 'old boring', there's a neat parallel here.
Whatever you think of the validity of these slurs against Mumford and Sons (and, for what it's worth, this particular writer doesn't think too much of those slights) it's doubtless Jim Lockey and the Solemn Sun's second album will be pigeon-holed by some as another exercise in bandwagon hopping.
'Part-grunting'
And there would be some logic to this.
The band's second album, Death, continues Jim Lockey and the Solemn Sun's mixture of folk with country and punk, this time adding hard rock to the formula.
There's intense, rhythmic strumming ('England's Dead') and full throttle drum lead instrumentals ('Everything and the Heart'), both of which will be familiar to listeners of 'Sigh No More'.
But there are also rockier elements here which will be more familiar to fans of music from across the Atlantic (see 'New Natives' for as good an example as any).
Jim Lockey's part-grunting, part-groaning vocals are perfect for this four-way fusion of genres.
Just as with JL&TSS's previous outing, Atlas, Death has the weight of the world on its shoulders.
It is principally concerned with feelings of dissatisfaction and restlessness. The opening song's title says it all: 'England's Dead'.
To match this despondent view of a nation, the album is littered with downcast references to cities, be they "bleeding cities", a "city [that] will go after your soul" or places where "everyone sleeps" while it "creeps and it grows".
It's a malignant place, this city, synonymous, it seems, with the album's single word title, no place for "an adventurer alone on the seas".
Style and substance
This world weariness is mixed, as fans of the band will expect, with political cynicism and anger.
You'll find it in 'New Natives' where imperialism is given short shrift ("bleeding for me for King and Country/or so we're told").
And you'll also hear it in the opening shots of 'England's Dead' with a disdainful repeat of the divisive cliché "you're either one of them or one of us".
It's fairly plain they don't mean a word of it.
In 'Death', Jim Lockey and the Solemn Sun have produced another fine example of fusing both styles and substance.
From the enticing melding of folk with punk and rock with country, to the explosive cocktail of small town dissatisfaction and big anger with world politics, this band are hard to ignore.
Boring they certainly ain't.