Robert Plant's Gloucester gig sells out in minutes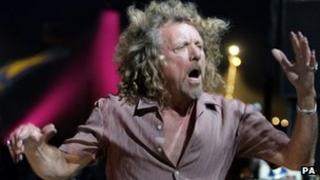 Tickets for a warm-up gig at Gloucester by the veteran rocker Robert Plant sold out within minutes.
The lead singer of the 1970s supergroup Led Zeppelin will play at the Guildhall on 8 May with his new band the Sensational Space Shifters.
A Guildhall spokeswoman said demand for the tickets had been amazing with the queue starting at 05:00 BST.
The one-off event at the 400-capacity venue comes ahead of a series of big gigs including Womad in Wiltshire.
By Friday afternoon a number of the £35 tickets were being offered on an internet auction website at up to £300 for a pair.
In a statement posted on the venue's Facebook page it was warning people not to buy tickets being offered on the internet.
"It's very likely you won't get in, plus you'll be supporting the touts, who we're now working to find and ban."
The 64-year-old performer, whose career has spanned more than 40 years, is regarded as one of the most significant singers in the history of rock music.