Cotswold Country Park death ruled an accident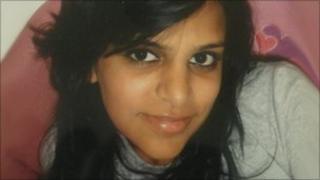 The drowning death of a teenage girl at a park in Gloucestershire was an accident, a coroner has ruled.
Kajil Devi, 15, from Feltham, died at Cotswold Country Park and Beach in July 2010, after slipping under the water.
Last week, Gloucester Coroner's Court heard Kajil had been playing with two younger family members, none of whom could swim, in an inflatable boat.
Assistant deputy coroner Tom Osborne reached his verdict on her death after a four-day inquest.
The court was told Kajil had slipped under the water trying to retrieve the boat, which had been close to the shore, as it drifted out.
'Tragic accident'
Her body was found 20 minutes later by a member of the public.
Kajil was given CPR by a lifeguard and taken to hospital where she died the following day.
During the inquest there was criticism of the number of lifeguards on duty.
But Mr Osborne said those criticisms "in my view - did not cause or contribute" to Kajil's death.
He said: "This was simply a tragic accident".
The Cotswold Country Park and Beach forms part of the Cotswold Water Park on the Gloucestershire-Wiltshire border.