Seven Springs landmark dry stone wall gets a facelift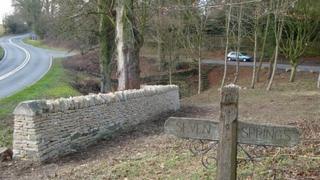 Part of a landmark in Gloucestershire, believed by some to be the true source of the River Thames, has been restored.
A section of dry stone wall at Seven Springs, near Cheltenham, has been rebuilt and overgrown trees removed.
The site is the source of the River Churn, which flows into the Thames, and is further north than the official source of the Thames at Thames Head.
Coberley Parish Council vice chairman Duncan McGaw said the spring was an important landmark.
"It's certainly one of the sources of the River Thames and many believe it to be the ultimate source," Mr McGaw said.
"We're proud of it and we are keen to see it maintained in good condition so it's a place that visitors will want to come and see."