Gloucestershire police chief constable steps down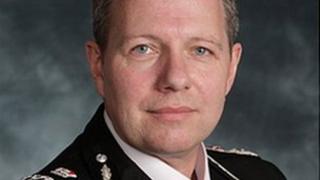 Gloucestershire police force's chief constable has resigned citing "grave concerns" over the new police commissioner role.
Chief Constable Tony Melville, 49, has been in the role for two years, and was previously the Deputy Chief Constable of Devon and Cornwall Constabulary.
Mr Melville said he understood reforms were needed but did not agree with the police and crime commissioner position.
Deputy Chief Constable Mick Matthews will take over his role temporarily.
'Gain influence'
Mr Melville is due to leave at the end of May.
"I believe policing does need to change and that is why we have transformed our approach in Gloucestershire," he said.
"However I have grave concerns about some elements of the current police reform agenda especially the election of Police and Crime Commissioners in six months time.
"I have therefore decided that I will not continue as Chief Constable under those new arrangements," he added.
The police and crime commissioner (PCC) role will replace police authorities which currently hold chief constables to account.
The PCC role will be able to set police force budgets and policing priorities and hire and fire chief constables.
In addition to these powers, PCCs will be able to commission local crime reduction, community safety and victims' services.
Elections to the posts are due to held in November, the government has said.
Mr Melville has served in the police force for 34 years.
'Wasteful and flawed'
During his two years as Chief Constable, Mr Meville oversaw £18m of cuts to his police force, the closure of 19 police stations and a reduction of 200 police officers.
Former superintendent with Gloucestershire Police and PCC candidate, Martin Surl, said: "I'm concerned that political parties will try to gain influence over the police service even more than they have in the past and I don't want to see that, but the fact of the matter is, there will be commissioners in November."
The chair of Gloucestershire Branch of the Police Superintendents Association of England and Wales, Gavin Thomas, said he recognised it was a "difficult personal decision" made by the Chief Constable.
Shadow Policing Minister David Hanson MP said Mr Melville's decision was "deeply concerning".
He said Tory plans for "US-style commissioners were wasteful and flawed".
"Tony Melville spoke out against the huge cuts to police budgets earlier this year, describing his force as being on a 'cliff edge'.
"He has now resigned because of the Government's ill-thought through changes to police accountability. It's not too late for the Government to change course."