Gloucestershire chief constable 'wrong to step down'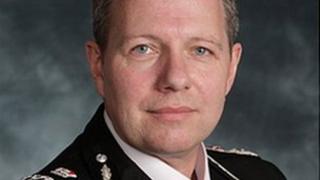 The chief constable of Gloucestershire was wrong to resign, an MP says.
On Friday, Tony Melville announced he was stepping down because of "grave concerns" he has over moves to create a police commissioner role.
But Mark Harper, Tory MP for the Forest of Dean, said a chief constable and commissioner would work well together.
He said their roles were clearly defined, with the chief responsible for day-to-day policing, and commissioner for policy, priorities and funding.
"The move to police and crime commissioners is about who sets the policy for the force and the budget it's not about who has operational responsibility - that's the chief constable's job," said Mr Harper.
"I think a police and crime commissioner and Tony Melville would have worked well together. He clearly doesn't agree and it's sad he has gone.
"If he's gone [because he fears interference from a political body and does not like this] - then he is wrong."
Mr Melville, who has been Gloucestershire's chief constable for two years and was previously the deputy chief constable of Devon and Cornwall Constabulary, is due to leave at the end of May.
He said although he understood reforms were needed he did not agree with appointing a commissioner.
"I believe policing does need to change and that is why we have transformed our approach in Gloucestershire," he said.
"However, I have grave concerns about some elements of the current police reform agenda especially the election of Police and Crime Commissioners in six months time.
"I have therefore decided that I will not continue as Chief Constable under those new arrangements."
Deputy Chief Constable Mick Matthews will take over his role temporarily.
The police and crime commissioner (PCC) role will replace police authorities which currently hold chief constables to account.