Tewkesbury residents concern over flood town reputation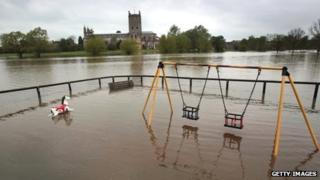 Following the devastating floods of 2007, the town of Tewkesbury has worked hard at restoring its image.
"We are back in business" has been loudly proclaimed by residents, who are still fighting high insurance premiums, and businesses which have had to battle a lack of confidence in the area.
So, five years on, how has it felt to see the town back in the national spotlight after heavy rains led to seasonal flooding?
Reverend Canon Paul Williams, 53: Vicar of Tewkesbury
We have had people phoning the Abbey office and asking whether Tewkesbury is open, we have had coach tours asking if we can put them up and we have had guide tours that have been cancelled because of this.
I suspect it will affect our shopping and I suspect it will affect people's thoughts about holidaying here.
We are a holiday town and we rely on that and it is unfair really to think of flooding and then immediately think of Tewkesbury.
For those of us that know Tewkesbury, that know the town is actually built on a flood plain, this is a normal seasonal flood.
I don't think it helps at all with associating any form of flooding with 2007.
Caroline Rawlinson, 46: Resident and businesswoman
I feel a sadness that we are purely associated with the floods of 2007.
What is blown out of proportion is that we are on a flood plain and once a year we flood. People living here are used to it - you just adapt. You may think our lives have ground to a halt but they really haven't.
I have seen lots of helicopters filming us, and it looks spectacular from the sky, but it is a problem that we could always be associated with floods.
Also, sadly this is on the eve of the big tourist season and I am worried that this is going to put a lot of people off coming. They'll look at the weather and think the town is closed.
Since 2007 the town has got back on its feet really well. There has been an awful lot of change and the business community has done really well. More businesses are coming, we are attracting companies to the town and people are wanting to live here.
I'm sure the town will be very good at coming together to get the message out that this is normal.
Mike Kean-Price, 69: Town crier
After all we did as a community when we surrounded the Abbey with colour and music and laughter ( "Over the Rainbow" event, 2008 ) and said "we've got over this", but it doesn't appear that the media is capable of getting over it.
They are trying to make Tewkesbury and flooding an open sore, and it isn't.
[This week] I have seen nothing that hasn't happened three times a year all the 14 years that I have been the town crier.
Dave Witts, 71: Severn and Avon Valley Combined Flood Group
It has brought flooding back into the forefront and makes people wonder whether Tewkesbury should be here or not.
Here we are doing a lot of work on drainage issues and with insurance companies, and this just puts questions back in people's minds.
Our organisation was formed in September 2007 and we have been working very hard with local authorities, the Environment Agency and all sorts of people on getting over flood issues and getting money invested.
We have started to get places and we really need to carry on, but people tend to get nervous especially when they are put under a lot of pressure about flooding.
Chris Warbrick, 55: Jessop Townhouse B&B owner
People think that Tewkesbury is virtually shut but it's not.
I have had customers phoning up asking if we are going to be open and I have had family and friends phoning up to make sure we are alright. Everything's fine.
It certainly doesn't do you any favours.
I've been out and looked at the floodwater and it was slightly higher on Tuesday than it was on Monday but it's only on the really low ground.